Can You Use Google Nest audio With TV? Let's discuss it! Affordably priced, Google's latest smart speaker is designed to compete with more expensive models. The Nest Audio might be able to be utilized as a "home theater sound system" for video playing on the Chromecast with Google TV as a result. 
How to update your device?
The Google Home app and your speaker should have installed the latest software updates. Using the Google Home app, you may check for updates on your Google Nest Mini by performing the following:
1. Open the Google Home app on your smartphone.
2. Choose your Google Nest Mini from the list.
3. Press and hold the Device Settings button to bring up the device settings menu.
4. Check for firmware upgrades by scrolling to the bottom of the page.
In addition, make sure that your phone is up to date with the latest software. 
Can You Use Google Nest audio With TV? Explained
You can transform your laptop and TV listening experience by connecting two Google Home or Nest Home speakers. It's possible to create a left/right stereo pair of Google Home or Nest Home smart speakers, even if they're not the same color.
A major selling point of Google Home smart speakers is their sound quality. A unique bass thud can be heard in the Nest Mini's bass spectrum, bringing out the rhythm in your favorite songs. Your TV, on the other hand, is infamous for having poor speakers.
The good news is that your Google Home speakers are likely to be compatible with your smart TV, and you can set up your TV audio to be played through Google Home in just a few simple steps.
The Google Home and Nest Home smart speakers are already excellent speakers in their own right, especially since Google updated the Nest Mini's internals to extract more bass from the little devices.
For Bluetooth speakers, the Google Nest Mini raises the bar to a whole new level. The speaker may be used as a smart home assistant and paired with other suitable devices in addition to being an ordinary speaker.
Unused Nest Audio marketing copy was discovered in Google Search. It can be found in the Google Store product listing's description. The home theater sound system is the description of Nest Audio's latest streaming dongle.
The speaker would be the default output for whatever video is playing on a connected Chromecast with Google TV, assuming such a setup is available.
Due to Nest Audio's stereo pairing and Cast grouping, users may create a surround sound system with relatively inexpensive speakers. It's not obvious what restrictions Google will place on the number of devices that can be used.
However, a new upgrade now lets you establish left/right stereo speaker pairs, which has significantly expanded the range of what, where, and how you may utilize your Google Home devices.
Who needs a dedicated soundbar when a pair of Google Nest Minis, Google Homes, or Google Home Maxes can deliver crisp, clear sound and send a sleep reminder to your relatives?
Or consider this: a set of Google Homes will sound just as good, if not better, than specialized computer speakers, if you are using a Mac, PC, or Chromebooks. Google Home will sound very good as, if not greater than, specialized computer speakers.
Here are some suggestions as to how to use Google Home's stereo system pairing capability for these and other purposes, and also how to set it up. Google Home's audio quality will be on par with, if not better than, that of specialist computer speakers.
Here are some ideas about how to use Google Home's stereo connection feature for these and other things and how to set that up. "Nest Audio becomes your home theater sound system with Chromecast & Google TV." Creating a speaker pair with two Google Home devices on both left and right channels is the first step in getting any of these to operate.
Here's how:
When you open the Google Home app on your phone or tablet, select the speaker you wish to associate.
In the upper right area, tap the settings icon.
Go to Device settings and select Speaker pair from the drop-down menu.
Tap Next after selecting the second device for your speaker pair.
The first device you picked will begin blinking; in the app, hit Next and choose whether the blinking device should be utilized as the right or left channel (it doesn't matter).
The other speaker will change to the opposite channel you select.
Give your new speaker pair a name and then press Next.
Determine the home and room the speakers belong in; for example, "Home" may be the name of your home, and "Living room" could be the area where the speakers will be installed.
The pair will now appear as a single speaker in your Google Home app and transmit a single Bluetooth or Chromecast signal, which you can use to connect to a PC or TV, as shown below.
The right speaker's microphone will be muted, so only the left speaker will hear "Hey, Google" or "OK, Google" commands. You can pair a couple of original two Google Home speakers, two Google Nest Maxes, or two Google Home or Nest Minis, but not both, not even a Google and a Nest Mini. 
On Chromecast-enabled devices, sound and video are intimately linked. This feature was particularly requested for the Google Home Max because of its soundbar-like form factor.
As a result, Apple will soon be able to stream 4K videos to the $299 HomePod and Apple TV. Late in the product's lifecycle, it introduces a significant feature. Nest Audio's Google Store website does not have the marketing language that advertises this capability.
Perhaps the feature was intended for the September 30 event but wasn't developed in time for it to be included. A few references were removed as a result of this decision, although not all of them.
Watch this video Can You Use Google Nest audio With TV?
Bluetooth allows you to connect to your TV
Using a Google Home speaker should be a breeze if your TV has Bluetooth capabilities (which most smart TVs do these days). Go to the Bluetooth settings in the TV's settings.
Next, say "Hey, Google pair Bluetooth" to put your speaker into pairing mode, and then choose the Google Home device you wish to connect to with "Hey, Google pair Bluetooth."
You may double the pleasure by putting speakers together. Two speakers of the same type, such as two Google Home Minis or two Nest Minis (but not one of each), will allow you to listen to TV in stereo.
A stereo pair must be created in the Google Home app by assigning one speaker to the left audio channel, and a second to the right sound channel.
1. On your phone or tablet, open the Google Home app. Tap either speaker icon to link it with your phone.
2. In the upper-right corner, tap the settings icon (the gear symbol).
3. In Device settings, select Speaker pair.
4. Select the second device icon for your speaker pair, and then tap the Next button to proceed.
5. Next, pick whether the blinking device should be utilized as a right or left channel (it doesn't matter which). In this case, the opposite channel is assigned to your second speaker.
6. "Google Home Speaker Pair", for example) and then press Next.
7. If you're putting speakers in your living room or in your home's name, choose "Home" and "Living room" as the names of your home and rooms, respectively.
Smarts with Cinema Sounds
Bluetooth is the best way to connect a TV or computer to the Google Home speaker group you just made. If your TV doesn't support Bluetooth, a Google Chromecast streaming media player (which also allows you to manage some TV functions with your voice – a win-win) can help.
There's also a workaround if your PC doesn't have Bluetooth: you can stream audio to your Google Home via Wi-Fi from the Chrome browser. Here's how to pair your Google Home stereo speakers with pretty much any Bluetooth-enabled device:
Ask Google to link the Bluetooth on your speakers by saying "Hey, Google, pair Bluetooth".
Search for "Google Home Speaker Pair" in the Bluetooth settings of the device you want to pair (or whatever you named your stereo pair).
TV speaker with your google nest mini
It all depends on what kind of TV you have. To connect your gadgets to a Samsung smart TV, navigate into the TV's settings. But don't worry if your TV does not have Bluetooth capabilities. You still have a few options available to you.
A Bluetooth 5.0 Transmitter from TaoTronics can transform an ordinary TV into a "smart" television. Plugin your TV's aux cord using the aux cord that came with this device. Next, turn on the gadget. This will send out a Bluetooth signal that you may use to connect your speaker to your phone or tablet.
Google Nest Mini Bluetooth Troubleshooting
When it comes to connecting your gadgets, here are some viable solutions. If it doesn't work, try to reset your Google Nest Mini. Using a reset button on your smart home gadgets can be a lifesaver. It is possible to reset your Google Nest Mini if it does not appear on your smart TV or your phone.
Removing the battery from your device
You may find it by looking for a little button just below the Google logo
15 seconds of holding it down
Google Home app may require a re-entry of user credentials after the reset has been completed. Try reconnecting your phone or TV to your speaker once you have re-entered your information.
Exercise your limited warranty
A warranty claim can be filed if your Google Nest Mini does not work with Bluetooth or is otherwise faulty. A year from the date of purchase is usually enough time for you to return goods to the maker. This chronology, however, may not be applicable to all.
When making a warranty claim, you'll need a proof of purchase statement. No general wear and tear will be repaired or replaced by Google.
How to unpair two speakers that were previously connected?
If you choose to have two separate speakers instead of a stereo pair in the future, you may easily unpair them. What you need to do is:
1. When you open the Google Home app, select your speaker pair from the list of options.
2. In the upper right area, tap the settings icon (the gear symbol).
3. The Speaker pair can be found in the Sound settings section.
4. If prompted, select Separate speaker pair.
5. The speaker you have on the right channel may need to be repositioned. In the Google Home app, it will be listed under Local devices with the name you previously gave it. 
How do I find out if my tv is Bluetooth compatible? 
If you bought your TV within a couple of years, it's likely to have Bluetooth capabilities. It's best to verify your TV's options if you're not sure. Visit the audio, speakers, and related category sections for further information. However, you can use the above transmitter if you do not have Bluetooth.
Conclusion
The ability to hear your favorite TV show or movie throughout the entire house seems fantastic to you. Set up a whole-home audio system by following these steps: Playing music everywhere at once is also exciting, but be careful to set up your music services the appropriate way before you do that.
These five functionalities should be disabled while you're in Google Home settings. Your Google Home Mini can function as a Bluetooth speaker as well as a TV speaker. Easily pair your gadget with your smartphone to use this as a Bluetooth speaker. To link it to your TV, simply go into the settings on one's TV. 
It's now possible to use your Google Home whole-house audio system with a pair of speakers that appears as one speaker. Google Home can also help you manage the craziness of your Thanksgiving Day party if you're hosting one. While they're there, show off what Google Home can accomplish that Alexa and Siri can't. 
Google Audio Bluetooth Speaker - Wireless Music Streaming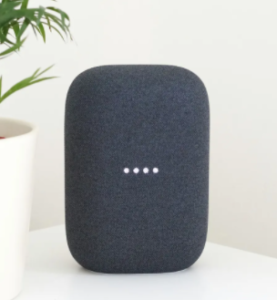 Hear music the way it should sound, with crisp vocals and 30 watts of powerful bass that fill the room. Inspired by your home, the colors, size, and shape fit beautifully into any room.
Product SKU: B09ZSW6B7J
Product Brand: Google Audio Bluetooth Speaker
Pros
Very good sound
Additional features of tapping the top of the speaker
Cons
Not compatible with other mobile devices.