Are you tired of wires and want to connect Bluetooth Headphones to Xbox One? Though Xbox One is the most popular gaming console, it lacks proper Bluetooth support. So if you're a new user and want to connect your Bluetooth Headphones to Xbox One, this post is for you.
Often Bluetooth Headphones have compatibility issues connecting with the Xbox series. Although connecting headphones with Xbox is challenging, you can still achieve it using some hoops. So to learn more about it, let's get rolling down!
Is Chatting possible after connecting Bluetooth Headset?
Unfortunately, you can only benefit from audio after connecting Bluetooth headphones to Xbox One. The headset microphone does not work for chatting. Chatting is only possible if you use special headsets with built-in mics. Though it is possible to chat, this option is costly.
Is it Possible to Connect Bluetooth Headphones to Xbox One?
Of course, you can connect Bluetooth Headphones to Xbox One. But remember that it's not a piece of cake like other devices. Xbox is an exception when it comes to wireless connectivity. You need to go through some workarounds to achieve seamless connectivity.
However, compatibility issues arise due to Microsoft's policy, the company behind Xbox. Microsoft has disabled Bluetooth headphones connectivity. Instead, it goes with its own route of wireless connection. As a result, you need to apply some hacks to connect a normal headset to Xbox.
The unique thing about the wireless connectivity of Xbox is that it uses higher frequencies. The benefit of using such a frequency is to ensure minimal latency and better sound quality. So, to connect your headphones to Xbox One, you need to utilize third-party devices.
Four Ways to Connect Bluetooth Headphones to Xbox One
These four ways work well for Xbox One and other variations of the Xbox series. So let's dive deep into each way to know the procedure of connecting Bluetooth headphones. You can also learn more via this video.
1- Connect Bluetooth Headphones to Xbox One Using Bluetooth Transmitter
Connecting Bluetooth headphones using a transmitter is the ideal solution in the case of Xbox One. One downside of this method is that it shuts down the microphone. Nevertheless, you can still hear game audio and party chat. 
Some Bluetooth transmitters have a specific design that fits well on Xbox One. This speciality makes them very convenient, and they fit on the controller like an accessory. Moreover, you get Bluetooth transmitters with a 3.5mm connection that can be plugged into Xbox One.
Here're some steps to connect Bluetooth headphones to Xbox One using a transmitter:
First, turn on the Bluetooth transmitter
Now plug the transmitter into the 3.5mm port of your Xbox One's controller
Turn on the headphone and engage pairing mode. Follow the manual for exact guidelines
To pair, simply press and hold the multifunction button for five seconds
Keep the headphones and dongle close for a fast connection
If your controller lacks a 3.5mm port, then better use a Stereo Headset Adapter
The audio jack is missing in older Xbox controllers 
How to connect headphones using Stereo Headphone Adapter
Simply connect the Stereo Headset Adapter to the controller's USB port
Now connect the transmitter to the adapter's 3.5mm jack
Pair the headphones with the transmitter for connection
One alternative way to the process is connecting using a digital optical cable that comes in some transmitters. Connect it at the back of the Xbox One on the S/PDIF port to make a connection. Then switch the mode of the transmitter from AUX (3.5mm) to S/PDIF.
2- Connect Bluetooth Headphones to Xbox One Using PC Connection
You can route audio connection to Xbox using window PCs. It is due to the similarities in the firmware and hardware structure of windows PCs and Xbox consoles. Though the connection is possible, it has some basic requirements that are as follows:
The network connection of your PC and Xbox must be the same.
Install the Xbox companion app on your PC. Your PC has the installed app by default; otherwise, you can download it from the Microsoft store for free.
Your PC must have Bluetooth or use a Bluetooth transmitter.
Once you successfully meet all the requirements, then you can enjoy the full functionality of Bluetooth headphones. These include party chat, game audio and mic. Below are some steps to connect Bluetooth headphones with Xbox One:
Open the Xbox app on your Windows PC
Now, sign in with your Xbox account
Then wait for the app to detect your device or click on " add a device" and add the IP address
Click on "connect" and wait for the pairing
Connect your Bluetooth headphones to your PC
3- Connect Bluetooth Headphones to Xbox One Using Your TV
Television provides a way to establish a connection between your Bluetooth headphones and Xbox. However, you must first connect your headphones and Xbox to the TV. Check the manual to plug the headphones into the TV and check whether your TV has Bluetooth.
Most smart TVs have Bluetooth. So, you can enable the pairing mode of your Bluetooth headphones after enabling Bluetooth on TV. Go to the settings of the TV and check for the Bluetooth option. It also doesn't support the mic. You can only hear audio sounds and party chat.
You can use a Bluetooth transmitter if your TV lacks Bluetooth capability. Just plug the transmitter into the TV and put it into pairing mode. Also, enable pairing mode on your headphones as well.
4- Connect Bluetooth Headphones to Xbox One Using Xbox App
Xbox app connection gives you the limited capability to hear only party chat. In addition, you cannot hear game audio or talk through your headphones. To hear audio, plug your headphones into the Xbox app and route audio to the TV. You can also speak through a USB mic. 
You can say it is not a complete solution; still, you can enjoy limited functionality. Anyhow here are the steps to establish a connection:
Connect your Bluetooth headphone to mobile
Download and install the Xbox app on your mobile
Next, open the app and click on the "social" icon
Allow all permissions and open the party chat. You can even invite your friends there
Conclusion- How to Connect Bluetooth Headphones to Xbox One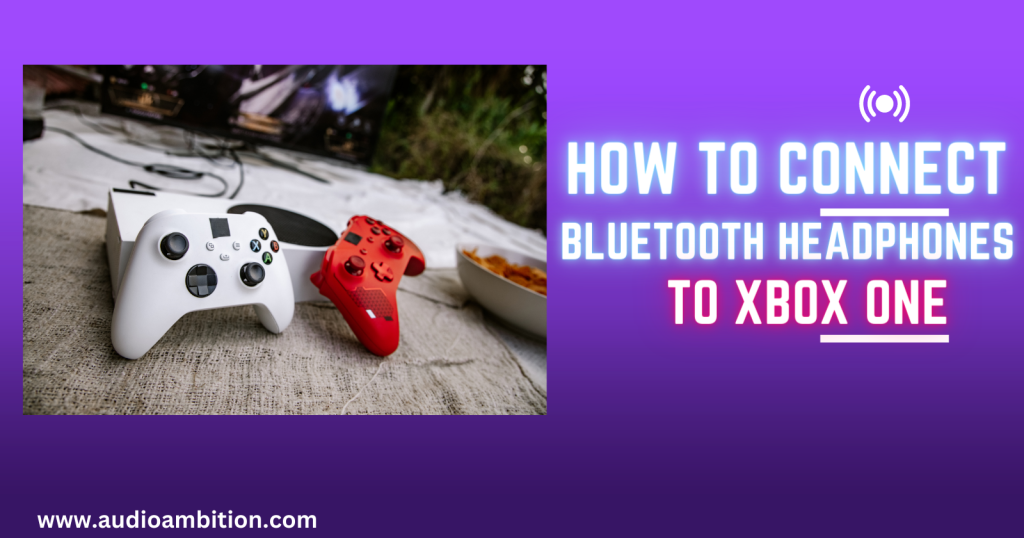 Connecting Bluetooth headphones to Xbox One saves you money and eliminates the hassle of changing your device. You can get rid of buying Microsoft-specific headphones as well. So just get your premium headphones ready and read this guide for a successful connection. Don't forget to mention your thoughts in the comment section below.