If you have a pair of stereo speakers and you want to improve the overall audio experience, the best center speakers can do wonders. Even when planning to set up surround sound setup, a center channel speaker will play the most important role.
It balances the overall sound of the audio system and delivers the vocals with detail and clarity. The same is applied to 5.1 and 7.1 home theater systems.
Since the importance of the center speaker is paramount in any sound system setup, you cannot compromise the quality of the center speaker. From power out and driver size to woofer and tweeter, you must purchase a center speaker where all parameters are balanced.
We have handpicked the top 3 best center speakers so you can choose from them to get the best value for your money.
Center Stage Sound: The Top 3 Best Center Speakers for Crisp Dialogue and Immersive Audio
1. Sony 2-Way Center Channel Speaker
Sony is the most reputed brand in the speaker industry worldwide. This is the best-rated center speaker from Sony, delivering outstanding performance on all parameters. The speaker sports superior audio components, from a superior woofer and tweeter to exceptional drivers and crossover.
The speaker belongs to the 2-way, 3-driver category, which delivers exceptional audio depth with precise sound production. The 4-inch woofer produces full-frequency audio with powerful bass response. Thanks to its super tweeter, you can listen to high-frequency audio with full clarity.
The speaker features mica-reinforced drivers and an optimized crossover that ensures no signal loss in audio reproduction. The maximum input power stands at 145W, which implies that the speaker is powerful in audio delivery.
The speaker's sophisticated design can blend well with any stereo speakers and home theater setup.
Pros
Outstanding sound reproduction with no signal loss.
Dual woofers deliver powerful bass.
Superior audio components for crisp and clear audio.
Versatile applications and sophisticated structure.
Cons
The high-frequency range could be slightly better.
2. Klipsch Powerful Center Channel Home Speaker
Klipsch is a premium brand in the speakers and headphones segment. This powerful speaker is the best-rated center-channel speaker in the industry. The 2-way speaker's peak power handling stands at 400W, which makes it extremely powerful.
The speaker sports a 5.25-inch dual woofer setup for powerful bass. The aluminum tweeter adds to the sound clarity by reducing distortion. The speaker produces the clearest movie dialogues and music lyrics. The realistic audio reproduction ensures you get a perfect surround sound experience.
The proprietor Tractrix technology reduces sound reverberation and adds detail and dynamics to audio output. The speaker has reinforced MDF construction for enhanced sound accuracy.
Besides, its closed-back structure offers you multiple options for its placement as per your requirements.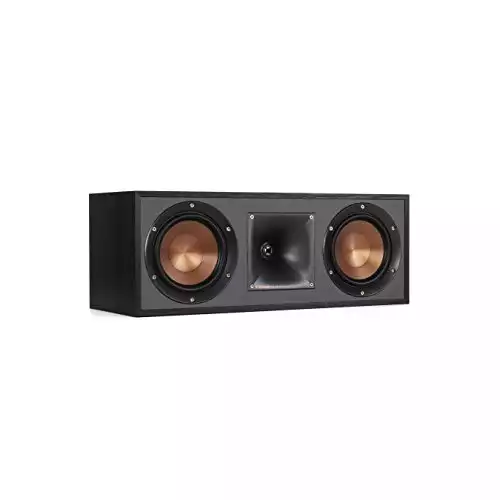 Pros
Powerful speaker with 400W power handling.
Dual woofers for powerful bass.
Tractrix technology enhances audio output.
Linear travel tweeter for better clarity.
Cons
The frequency response range is slightly compact.
3. Polk Audio Blackstone Speaker Center Channel
Polk Audio is a renowned brand in the speaker industry, and this center channel produces the best audio output as a center channel speaker.
Even though it is suitable for home theater, it can produce audio comparable to large audio systems.
The speaker sports 2-5-inch dual drivers and a 0.5-inch dome tweeter for superior audio clarity and depth. The audio components reduce distortions and reverberations significantly for better audio output. The glossy Blackstone finish matches well with modern home décor.
The speaker has a highly affordable price tag despite superior audio components. Keeping in as the center channel speaker, you can add as many speakers as you want to build your home theater system. You can also hang the speaker securely with a combination of keyhole and insert.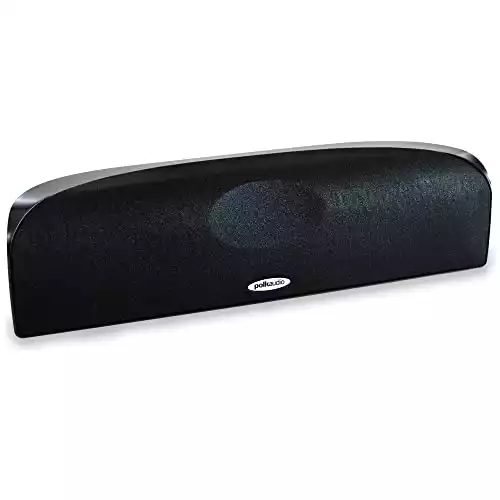 Pros
Superior audio components for outstanding output.
Relatively inexpensive with quality compromise.
Compact in size but a powerful bass response.
Hi-gloss design suits any modern décor.
Cons
The vocals could have been clearer.
Buying Guide For Best Center Speakers
Here are some points you have to keep in mind when you purchase a center speaker.
Audio Components:
The center speaker is the most important piece in your home theater system. Naturally, the audio components need to be top-notch to deliver superior performance. Among the audio components of a speaker, you have to watch out for the woofer, the tweeter as well as the drivers.
Power Output:
The power output of a center speaker determines the speaker's loudness. For example, a 400W center speaker will be louder than a 200W center speaker. Depending on your requirements and the supporting speakers you already have, you have to select the power output of the center speaker.
Compatibility:
The compatibility of a center speaker depends on the technical and aesthetic aspects. The technical aspect lies in the speaker's size and power, which must match the surrounding speakers. The aesthetic aspect states that the center speaker should be compatible with the surrounding speakers in size and overall appearance.
Watch this Beginners Guide – Choosing The Right Center Channel Speaker
FAQs about Best Center Speakers
What does a center speaker do?
A center speaker delivers the vocals and audio effects when you are watching a movie. Therefore, it is essential if you want more clarity in dialogues and lyrics.
Can I use any speaker as a center speaker?
Yes, you can use any speaker as a center speaker except for a subwoofer. However, it is always recommended to use a dedicated center channel speaker where all audio components are specifically designed to deliver audio centrally.
Check out more detailed information on speakers and related equipment
Conclusion: Best Center Speakers
A center speaker is the most important part of a home theater system. Therefore, you must purchase the best center speaker to get the best out of your home theater. We have provided a buying guide so you can pick the perfect center speaker conveniently.
We have also handpicked the top 3 best center speakers for your consideration. Compare them and choose the best one for your home theater system.