If the bass is missing from your sound system, you need a subwoofer. The best wireless Subwoofers not only add depth to the sound by enhancing bass but also improves the overall sound quality by balancing the sound from the stereo speakers.
The only issue is that when you add a subwoofer, you create a mess of wires with the existing wires of the speakers. That is why wireless subwoofers are steadily becoming popular.
You can use a wireless subwoofer with speakers capable of receiving wireless signals from the subwoofer. The wireless audio system is easy to move around, and you can instantly connect compatible audio streaming devices.
Unlimited wireless subwoofers are in the market, but only a few are worth purchasing. We have handpicked the best wireless subwoofers from popular brands for your consideration.
Best Wireless Subwoofers
Here we have 3 Best Wireless Subwoofers:
1. Bose Bass Module 700 Wireless Subwoofer
Bose is a premium brand in the audio industry, and you get what you pay for. This is the best-rated wireless subwoofer from the brand that stands out among all subwoofers. You can pair this wireless subwoofer with Bose 700 soundbars and speakers for ultimate audio output.
The subwoofer produces dramatic bass to enhance the audio system's sound quality. Its powerful driver delivers dynamic notes for immersive and cinema-like sound. The subwoofer prevents sound distortion despite its pulsating vibration thanks to its quiet port technology.
You can connect surround speakers within 30 feet. The glossy glass top finish makes it look and feel premium. Apart from Bose 700 series speakers and soundbars, it is compatible with Bose 500 and 300 series speakers. The subwoofer size is 12 inches, while the output power is 180 watts.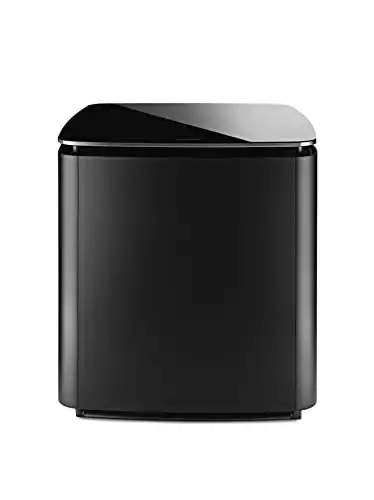 Pros
Powerful bass response
Dynamic low notes range
Wide range of connectivity
Eye-catching glass top finish
Cons
It is relatively expensive.
2. Sonos Sub (Gen 3) Wireless Subwoofer
Sonos is a reputed brand in the speakers and subwoofers segment. This wireless subwoofer is best-rated among all other wireless subwoofers despite its huge sales. The subwoofer delivers deep bass without distorting the overall sound from your audio system.
The wireless subwoofer sports two premium drivers that cancel out the vibrations and resonance effectively. This ensures only the powerful bass passes through without any distortion, and hence, the overall sound quality gets enhanced.
The subwoofer takes care of the lowest frequency to boost the midrange playback from the speakers and provide full-range detailed audio output.
The 15-inch subwoofer has a sophisticated design with a glossy finish that adds further to its aesthetical value. You can pair the subwoofer with surround sound Sonos speakers for an immersive experience. The 650W subwoofer uses a Wi-Fi connection, and you can connect to speakers within 15 feet.
Pros
Delivers the lowest frequency with clean and deep bass.
Boosts the mid-range and high frequencies of the speakers.
Award-winning sleek design with a glossy finish.
Eliminates vibration, rattling, and buzzing.
Cons
The subwoofer is relatively heavy.
3. Klipsch 12″ 400 Watts Wireless Subwoofer
Klipsch is a popular brand in the subwoofer category, and they have the best-in-class front-firing woofers. This is the best-rated wireless subwoofer from the brand, with 400W output power. The subwoofer is perfect for large rooms as it can uniformly project deep bass across the room.
The subwoofer delivers high-quality low-frequency response. Its spun copper construction minimizes vibration and sound distortion. Besides, the all-digital amplifier reproduces sound with high efficiency and accuracy.
You can connect the subwoofer with Klipsch speakers, and its low-pass crossover, along with phase control, will deliver an ideal level of audio.
The subwoofer uses a detachable 2.4 GHz transmitter for wireless connection. The subwoofer is enclosed in a box that has a strong and durable construction. Overall, the 12-inch subwoofer has a compact structure with a matte finish.
Pros
Dramatic bass with depth and clarity.
Anti-vibration and anti-distortion structure.
Relatively low cost but powerful subwoofer.
Easy connectivity option with the pre-paired transmitter.
Cons
There could be some interference in wireless mode.
Buying Guide For Wireless Subwoofer
Even though we have listed the best wireless subwoofers for you, you should use your judgment to pick the perfect one for your room. Your judgment can be based on the following important parameters for a better purchasing decision.
Type of Subwoofer:
There are broadly two types of subwoofers available – Sealed and Ported. The sealed enclosure does not let air move in or out, and hence, the bass is more accurate.
The ported enclosure lets air move in and out through air vents, and hence, the bass is more powerful. However, the ported subwoofers are larger than sealed subwoofers.
Power:
The higher the subwoofer's power, the more powerful and impactful the bass will be. Depending on your room's size, you have to choose the power.
For example, if you have a large room, you must opt for 400W or higher subwoofers. 200W or lower subwoofers can be equally impactful for a relatively small room.
Size:
Size refers to the driver's size in a subwoofer. Just like power, you need to choose a size as per the space available and the room. The standard size of a subwoofer is 12 inches, but you can opt for 8-inch and 10-inch subwoofers if you have a relatively small room.
Besides, the prices of subwoofers vary wildly from brand to brand, and you have to choose as per your budget without compromising the quality of the subwoofer.
FAQs: Best Wireless Subwoofers
Is a wireless subwoofer good?
Yes, a wireless subwoofer performs equally as a wired subwoofer. There are powerful wireless subwoofers available with the same power as wired subwoofers. The depth and clarity of bass and low-frequency response are optimal in wireless subwoofers.
What is the advantage of a wireless subwoofer?
The main advantage of wireless subwoofers is that you can connect subwoofers to speakers and soundbars without any wires. Therefore, there will be no mess in your room due to wires lying everywhere. Besides, you can transport a wireless subwoofer from one place to another without any issues.
For more information on subwoofers, you can check out this link.
Conclusion
A wireless subwoofer is a convenient option for audiophiles who do not want a mess of wires in their rooms. Wireless subwoofers from a particular brand are compatible with speakers and soundbars of the same brand.
We have put together a buying guide so that you can choose the perfect wireless subwoofer after proper review and comparison. To make things easy for you, we have handpicked the best wireless subwoofers in the market that you can purchase as per your preference.