In the past, speakers were for sound amplifying to make the music more pleasing and straightforward.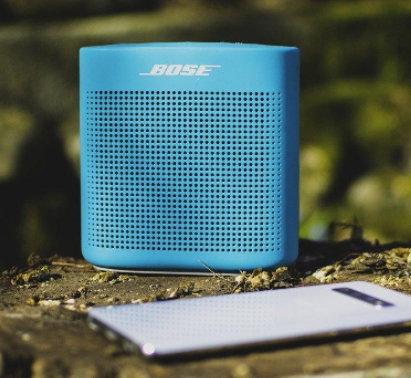 However, in this day and age, speaker technology has fully advanced and can tell you the weather, read the news to you and do many other things. 
Bluetooth speakers are not like regular speakers, and they are portable and very versatile.
They also can work with any smartphone with Bluetooth.
So, do Bluetooth speakers come with microphones?
Most Bluetooth speakers have built-in microphones and other audio-enabled features that are beneficial for hands-free calling. These Bluetooth speakers provide clear and loud enough sound so that you can hear the caller on the other end. Also, these speakers are portable and come with modern designs.
In summary, Bluetooth speakers do come with a microphone that makes it easy for you to receive calls without reaching out to your phone.
Unlike other types of speakers, Bluetooth speakers add to your convenience and provide great sound.
The microphones in the Bluetooth speakers are very useful in so many ways.
The article below is going to discuss Bluetooth speakers in more detail and other essential features.
Importance of a Bluetooth speaker with a microphone.
Buying a Bluetooth speaker will ensure that you answer the call even when you are not near your phone.
You can go hiking, walking or do other activities. A Bluetooth speaker offers you a lot of benefits, and we are going to discuss some of them. 
Hands-free calls
The main feature of a Bluetooth speaker is that you will receive calls even when your phone is not near you. The speaker audio is clear and loud enough that you can precisely hear the person on the other side.
Since you will be hands-free, your hands can be doing something else while you take the call, helping you multitask.
Portable
Bluetooth speakers are very portable, and that is one of its great benefits. They are tiny in size and not like other types of bulky speakers.
Because of their portability, most people have invested in them. Their small size helps you carry it with you to any place and at any particular time.
Energy efficient
You don't need to plug in your Bluetooth speakers because most of them use batteries. That means the batteries can be changed when they are out of power.
If it is rechargeable, you recharge it before you use it next to be full and last you long. A Bluetooth speaker with good batteries should last you 48 hours before you will need to recharge it again.
No installation required
A Bluetooth speaker does not need to be installed like other types of hardware. Place them next to your music source and just press play, and it is that easy.
You have to turn on the Bluetooth, and you can connect it to your phone, MP3 players, and even computers.
Sharing options
With a Bluetooth speaker, you can share your favorite tunes with family and friends with no fuss at all.
As long as their computers and phones have Bluetooth, they can quickly receive anything you send them. 
5 Essential Bluetooth Speaker Features 
Bluetooth speakers are an example of great sound and convenience. Bluetooth speakers have become very common in today's market, primarily because of their excellent features. Features like portability are reasons people love it so much.
Below are 5 of the essential features that any Bluetooth speaker should have.
Should be portable
Bluetooth speakers come in different sizes and shapes, and they have other handles and clips that can deal with various customer lifestyles.
Some Bluetooth speakers have a carabiner that you can hook to your bag or belt. Most Bluetooth speakers are packaged into a small size that can produce great sound. Some Bluetooth speakers can also be separated into two individual speakers to get the versatility of two speakers.
Water-Resistant
If you want to listen to some music while having fun in the pool or at the beach, then a water-resistant Bluetooth speaker will come in handy. Not all Bluetooth speakers are waterproof, and that is why you should get one with that feature.
Go for brands that have Bluetooth speakers with a waterproof feature. Some can even float around the water and can even submerge for up to 30 minutes.
Rechargeable Battery
A tremendous essential feature of a Bluetooth speaker is an internal rechargeable battery. That makes it energy efficient and more convenient. A good Bluetooth speaker should have a battery that can last a minimum of 12 hours.
That way, you can listen to music and use it all day before you need to recharge again.
Visual Effects
A Bluetooth speaker with lights gives a dancing effect and makes the party more fun. Get a Bluetooth speaker with LED lights so that they can give you visual and lighting effects. The remarkable feature will make the users watch and listen to music and have fun.
Durable
This is one of the essential features that a Bluetooth speaker must have. The speaker should not only be able to take harsh weather but also resist tear and wear.
Buy a Bluetooth speaker with a durable silicone shell to protect the speaker in case it falls.
The silicone will also protect it against rain, splashes, or snow. As you choose a durable speaker, don't forget to also go for a speaker that looks good.
Frequently Asked Questions (FAQs)
Are Bluetooth speakers desirable?
Just like any product, Bluetooth speakers have their bad and good sides. Some of the main problems of a Bluetooth speaker are signal loss, lousy battery life, low sound quality, and many other issues. However, the above issues are not meant to make you not buy a speaker as it comes with many more advantages. 
A Bluetooth speaker will allow you to use some devices even when you are not near them. You can take the Bluetooth speaker with you when you want to have fun outside, and you won't miss a phone call while at it. You will feel more accessible and try out new things with no restrictions.
A Bluetooth speaker is designed that you won't need to deal with any cables, which means more freedom. They are small in size, making them very portable, and you can take them anywhere you want.
A portable speaker makes outdoor activity fun, and you can take it to a picnic, and talk, laugh, and dance with the music from the speaker.
Do you need surround sound?
In today's times, people have become very busy, and whatever free time they have, they want to enjoy life. A Bluetooth speaker is the best way to have fun and still get to receive calls when needed.
You don't have to go inside for a phone, receive calls wherever you are by just pressing a button. When you are done, your music continues as if nothing had happened.
When going biking, attach a small Bluetooth speaker to your bike and quickly receive calls. Without it, you can reach for your phone, which is risky and can lead to a bad fall.
Bluetooth speakers are not like in the past; they have been improved tremendously and have perfect batteries. Their batteries are durable and can last long, enabling you to do all tasks without thinking about recharging them.
Other essential features:
Apart from the above essential features, there are many other features that you should look at when buying a Bluetooth speaker. Below are some of the vital components that a good Bluetooth speaker should have before you buy it.
Audio power
Some Bluetooth speakers don't have audio power specified. Even if it is stated, it is only given in watts.
Depending on the watts, if high, then it means it consumes a lot of power. Low watts may also mean that the speaker will not be that efficient. When using it outside and in large rooms, go for a speaker with more power.
The version of the Bluetooth
Most speakers will specify the version of Bluetooth so that you know what you are getting. V.1 was the first version and outdated as devices are no longer made with it. 2.0 has been used a lot, but most devices go with four or even 5.
When buying a Bluetooth speaker, go with the latest version of Bluetooth.
You don't have to always go for a higher Bluetooth version; a 2.1 Bluetooth speaker and above will do alright.
Higher performance means more capabilities like fitness trackers and even data collection. Unless you plan to use the speaker for many functions, you can get a 2.1, and it works fine.
Multiple speaker connection
A  Bluetooth speaker's stereo sound is significant, but you need to know whether it can connect to other speakers.
If you are out having fun with your friends and have more than one speaker, you would want both of them to connect and produce more sound.
Near Field Connection
It is easy for a Bluetooth speaker to connect to an iPod or phone. However, when it comes to NFC, some of them will not be able to do it.
A speaker with NFC can bypass settings and automatically play music. For NFC to work, your device also has to be enabled, and both of them should have Bluetooth. Only Android phones can do this, but you don't have to worry much because it's simple to connect to Bluetooth these days.
Wired inputs
Most old iPods and phones are not Bluetooth enabled, and when that is the case, you have to buy a Bluetooth transmitter.
Another way to go is purchasing an audio cable. Most Bluetooth speakers also come with a 3.5mm jack input and can be connected through cable. Don't always assume that a speaker has a jack input, and it is essential to check.
Conclusion
There are many types of Bluetooth speakers available in different outlets.
Some are costly, while some are very expensive. It all depends on what you want and the kind of features you want it to have.
Going for a high-quality speaker will perform better and will last longer.