Is Dolby Vision Worth It? There seems to be a fair amount of confusion on whether or not Dolby Vision really is the best HDR format and worth it in general. Most Netflix and Vudu release that support Dolby Vision also supports HDR10, so just buying movies in those formats means you're getting some sort of HDR experience. Let's discuss Is Dolby Vision Worth It?
What is HDR?
HDR stands for high dynamic range and essentially means that we should see more detail in dark and bright areas of the screen. This will give you images that look closer to real life and make brighter images less likely to blind you by being too bright. 
The format was originally called 'UHD BLU-RAY, but it now covers any content mastered with a high dynamic range, including streaming services such as Netflix and Amazon Instant Video.
What is Dolby Vision?
Dolby vision seems to be the new standard in TV viewing, promising better picture quality than HDR 10. It's a little confusing as many manufacturers support both formats so I would like to clear up how it all works and what you could expect from Dolby's vision. So Is Dolby Vision Worth It? Read on to know.
What about 4k?
For a long time, 4K  used to be the main reason for people buying a new TV as it was seen as 4x 1080p however, there are now more near 4k resolutions on the market, coming with titles such as 8k and 10k. 
In truth, you don't really need these as most TVs now come with upscaling which promises better picture quality from 'full HD' content. There are two standards that cover HDR today: HDR10 and Dolby Vision
HDR10 is currently the best-selling format of High Dynamic Range and works by mastering your footage so it looks good on a few specific models. It's a good option for anyone who doesn't own a 4k TV yet and wants to future-proof their purchase.
Dolby Vision on the other hand is a more advanced HDR standard that, in theory, promises better picture quality due to the way it's mastered. In truth, this difference isn't always noticeable so you're unlikely to be very disappointed with either format.
It has been available since late 2014 however the amount of titles that actually use Dolby vision currently remains low with only a few film studios using it that often include Warner Bros., Universal, and Sony Pictures.
This means it's still worth buying a compatible TV but you probably only have two or three films at most that will take advantage of it right now.
How does Dolby Vision work?
How does it work? Is Dolby Vision Worth It? Unlike HDR10, which works by mastering for a specific TV, Dolby Vision can adapt to any screen it's played on.
What this means is that if you have a compatible TV, the footage will be mastered in a way that takes advantage of your model, meaning you should see better picture quality than what HDR 10 offers.
This doesn't necessarily mean it will look good on every TV, but manufacturers are able to adjust how it looks depending on their own models which gives us the best chance at seeing accurate footage even though it isn't necessarily official.
With HDR10 only certain TVs are compatible so all of them need to be adjusted individually rather than businesses being able to make changes themselves.
Compatibility – Which TVs support Dolby Vision?
Any 4k TV with HDMI 2.0a and HDCP 2.2 support will be compatible with Dolby Vision so while this isn't necessarily a complete list, most newer models should work.
Samsung KS8000/KS8500  – 2015 models
Samsung SUHD JS9500 – 2015 model (75″)
LG 65UB9500  – 2015 model (65″)
Sony X850C/X900C  – Some of the Sony 2016 range also appear to offer Dolby vision but I'll confirm more when I'm able to.
Panasonic DX802/DX902 – The 2016 range from Panasonic has at least one Dolby vision model available although the full compatibility is still being confirmed.
LG 55EG9100/65EG9600 – 2016 models (55″ and 65″)
Sony Bravia X93C/X94C  – 2017 models
LG OLED C6/B6/G6 – 2017 models (Available in the UK from July)
Panasonic DX900 – 2018 model is now available but it's been reported that only 20 hours of content will be Dolby vision enabled. The rest can look as good as a Dolby vision disc if you own an external DVD player or upscale such as a blu ray player with Dolby Atmos capabilities.
Samsung QLED TVs – 2019 so far, although these have received no official mention of being Dolby vision compatible. 
When can you get it?
Unfortunately, not right now unless you have a limited selection of TVs. I've seen some people complaining on Reddit, but Dolby vision support is available on Netflix, so you simply need to upgrade your account if you want access to it.
It's also expected to come to Amazon Prime, Vudu, and M-Go soon, but this doesn't mean each platform will be compatible with all Dolby vision-enabled TVS meaning that for the time being, there won't be much content, although at least one more film should arrive before the end of May (Possibly Avengers). 
If you're looking for the latest films though HDR10 remains your best bet especially since most new 4k Blu-rays are mastered in this format first which means even if Dolby vision content is available it may not always be the best option.
Watch this video if you want to know, Is Dolby Vision Worth It
Is Dolby Vision worth it?
Wondering Is Dolby Vision Worth It? In my opinion, I feel that HDR 10 can look just as good if mastered well and so for now, I'm going to say no unless you have a TV compatible with at least one of the formats.
We've already seen titles looking almost identical to me on both platforms but this doesn't mean that Dolby's vision will always trump hdr10.
In fact, some titles might end up looking worse than their counterparts if they're not properly adjusted for each individual TVs color gamut and black level, which means your mileage may vary from one film to another; especially since manufacturers are allowed to choose how they want Dolby vision footage to be displayed.
This being said, most 4k TVs released in 2016 have at least one hdr10 preset, which means that you can use this to your advantage if you're not planning on upgrading any time soon.
Just find the best "HDR" picture setting and play around with the brightness until it looks close enough to a real HDR. You'll still get more detail in bright highlights but if your TV is capable of reproducing all colors beautifully too.
There's no reason why you shouldn't go for this option either, so feel free to experiment with both formats yourself when watching things like Netflix, although I'll still recommend using a dedicated player such as the OPPO UDP-203 or LG UP870 (Atmos) if available because these will always perform better.
Is it worth upgrading?
It depends on your situation but if you've already bought a good TV in 2016 or earlier, then there's really no need to upgrade yet unless you want one of the latest models because the difference will only be slightly noticeable unless you consider yourself extremely picky (like me).
If however, you're still using an old 720p HDTV then this is definitely something worth considering because not only will it make it easier for you to tell apart between SDR and HDR content but also bring your current 4k Blu Rays up to speed even if they were mastered in hdr10.
Personally, I feel that OLED screens are capable of reproducing beautiful blacks so I'm going to stick with my current model for now but if you've got a new QLED or some other type of LCD then I'd say go ahead and upgrade since this will give you access to more streaming services as well as provide more detail in the shadows.
Where does it all lead?
Dolby Vision is here to stay, there's no doubt about that, and while for now, its success might be limited, things are expected to change over time. The main question, however, is whether or not HDR 10 can survive just as long, considering that it is already available on most platforms.
Including every major streaming service means that even if Dolby's vision proves itself to be better in the future. We could still see titles released in different formats, to begin with, and so in this case, it will always be difficult to tell which is the best.
Conclusion: Is Dolby Vision Worth It?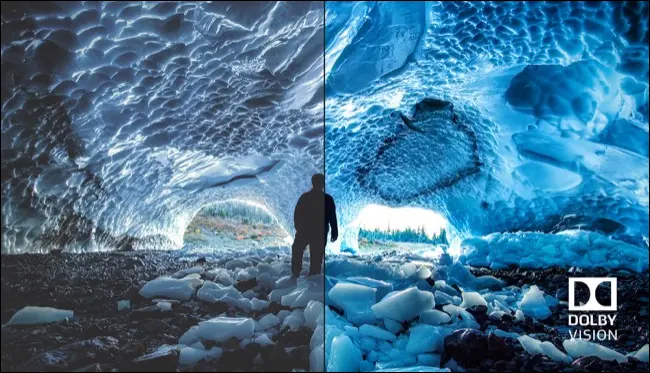 In my opinion, for now, both formats seem more or less on equal footing and while some people might prefer one over the other, both should provide a better viewing experience than traditional SDR which means that this could potentially translate into a boost in sales figures once prices go down. 
In fact, there's already been an increase in demand especially since Amazon started taking pre-orders for their new 2016 lineup of TVs which basically come with either HDR10 or Dolby Vision support by default so it just remains a waiting game until more content becomes available.
In any case, I'm very excited about what's yet to come, and I hope this article helped you get a better understanding of the topic so feel free to recommend it to others if you liked reading it, and don't hesitate to leave a comment if you have any questions.